Do you know what show I hate? So You Think You Can Dance.
The Boyfriend loves it and watches it all the time. For me, it's not bad enough to be good, nor good enough to be good. It's just meh, unlike the inappropriately sexy Your Mama Don't Dance in which adults were forced to dance with their middle-aged parents, which was INCREDIBLE.
I hate it for two reasons:
1. My friend Samantha, who is an amazing dancer, auditioned for Season One and fell on her ass. In all fairness, she's an Irish step dancer and they made her crump! I just think some people shouldn't have to crump is all.
2. I hate, hate, HATE "cool" or "cute" misspellings of names. ASHELEE. KRISTAYL. Whatever... I'm vomiting.
I have new found respect for the show though because I've just discovered that one of the judges, Nigel, is the choreographer of MY FAVORITE FILM OF ALL TIME.
If you've never seen The Apple then your life is a shell of a thing and a half-life at best. Put simply, it is a dystopian look at the future (of 1994) in which an evil record label has complete control of the government. All citizens are required to wear holographic stickers on their foreheads and there is a mandatory dance aerobics session every day.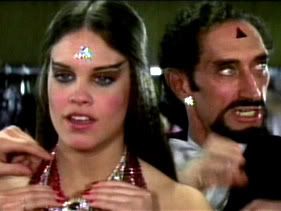 The production is Israeli, shot in Berlin (presumably at the airport on a Sunday afternoon from the looks of it), and the story takes place in New York. That makes sense.
It's even better than it sounds. It was only in the theater in 1980 for a week or so. In Los Angeles audiences were given the soundtrack on vinyl as a sort of promotion which were promptly thrown at the screen, completely destroying it. Of course the few soundtracks still in existence were sent back to Israel so my copy cost me like a trillion dollars.
Look, Nigel choreographed this gem:
I know what you're asking yourself, and the answer is yes. That is screen legend Catherine Mary Stewart (CMS as I like to call her), star of such seminal films as Night of the Comet, The Last Starfighter, and Weekend at Bernie's.
When great minds like Nigel's and Catherine's come together, magic is on its way.